The most fun water park within the Netherlands!
Neeltje Jans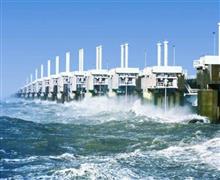 The Delta works are world famous. In order to prevent the 1953 Water flood from recurring, the Delta works were constrcuted. At the Delta park Neeltje Jans you will learn all details about their history. Exhibitions, movies and a tour of the dam will give you an impression of the enormous power, the water has.

The park also offers various water-themed attractions. There is a show with seals, a water slide, a water playground for playing and splashing and whale world with a real hurricane.
Opening hours
The Delta park Neeltje Jans has opened until November 4 2013.

Tickets can also be purchased at the Van der Valk Hotel Middelburg's reception desk.
Chidren, 4 years of age and older as well as adults: € 22 pp
Children, 2-3 years of age: € 3 pp
Children 0 -1 year of age: free

The parking fee for your car is € 7.
Pets are not allowed at Delta park Neeltje Jans.

You might also be interested in our 1953 North Sea flood - 60 years later package, including a visit to Deltapark Neeltje Jans.