Travel directions
From Rotterdam, Roosendaal and Antwerp
Follow the A58 towards Middelburg / Vlissingen.
Take exit 39 Middelburg Centrum.
At the end of the exit towards Middelburg Centrum.
At the roundabout take the first exit towards ZEP.
Take the first exit on the right, you are now on the Tromboneweg. Follow this road straight ahead until you have reached Van der Valk Hotel Middelburg.
From Terneuzen, Ghent
Follow the N62 towards Goes / Middelburg / Westerschelde Tunnel.
After the Westerschelde Tunnel, follow the N254 towards Middelburg.
You drive into Middelburg in the direction of the center.
At the roundabout take the first exit towards ZEP.
Take the first exit on the right, you are now on the Tromboneweg. Follow this road straight ahead until you have reached Van der Valk Hotel Middelburg.
Parking
The parking lot of Van der Valk Hotel Middelburg has ample free parking so you can always park close to the hotel.
Public transport
From the Middelburg train station, you can take bus number 65 in the direction of Middelburg (get off at bus stop ROC Tromboneweg) or bus 50 in the direction of Terneuzen (get off at bus stop Althoornweg).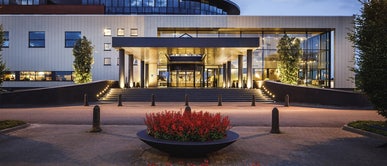 Hotel name

Hotel Middelburg

Address

Paukenweg 3

Zipcode and city

4337WH Middelburg

Phone

E-mail address

Website